Feeling thankful
How one couple fought COVID-19
By Beth Vinson
Jerald and Lois Orchard celebrated their 50th wedding anniversary this past June. Two weeks later, Jerald was in Salina Regional's Intensive Care Unit on a ventilator, fighting for his life. Being married for 50 years, the couple has endured many things, but perhaps nothing has compared to the COVID-19 pandemic.
'I was scared to death'
Jerald had not been feeling his best for about a week. He had a little shortness of breath and diarrhea, but nothing too alarming. He went to see his doctor, but since he didn't have a fever or many of the normal COVID-19 symptoms, the doctor told him to take it easy, keep a close eye on his symptoms and come back if he got worse.
Over the next week, Jerald didn't feel any better. He still didn't have a fever, but his fatigue, diarrhea and shortness of breath got worse. Lois knew something was wrong and took him to the emergency room, where he tested positive for COVID-19 and was found to have pneumonia.
"I didn't even know where I was at. I wasn't functioning at all," Jerald says.
He was put in the ICU that evening, and at 3 a.m. Lois got the call from the hospital telling her they had to put him on a ventilator.
"My heart dropped. I was scared to death we were going to lose him," says Lois. "We all expected the worst."
Staying connected
Because Jerald was a COVID-19 patient, Lois was not able to be there with him, which made things even worse. She stayed up-to-date on his condition through his nurses, who arranged video chats for them.
"I remember the first time I saw him on video chat. It was so emotional for me," says Lois. "He couldn't talk to me, but at least I could see and talk to him."
Jerald made sure Lois knew how much he loved her by using the hand signal for "love" when she talked to him.
During this time, Lois also tested positive for the virus, due to her direct exposure to Jerald before he went to the hospital.
"I didn't have any symptoms, though. I didn't have a fever or a cough. I felt fine other than I had a loss of appetite," she says.
Lois remained in isolation at her home during her COVID-19-positive status.
Regaining his strength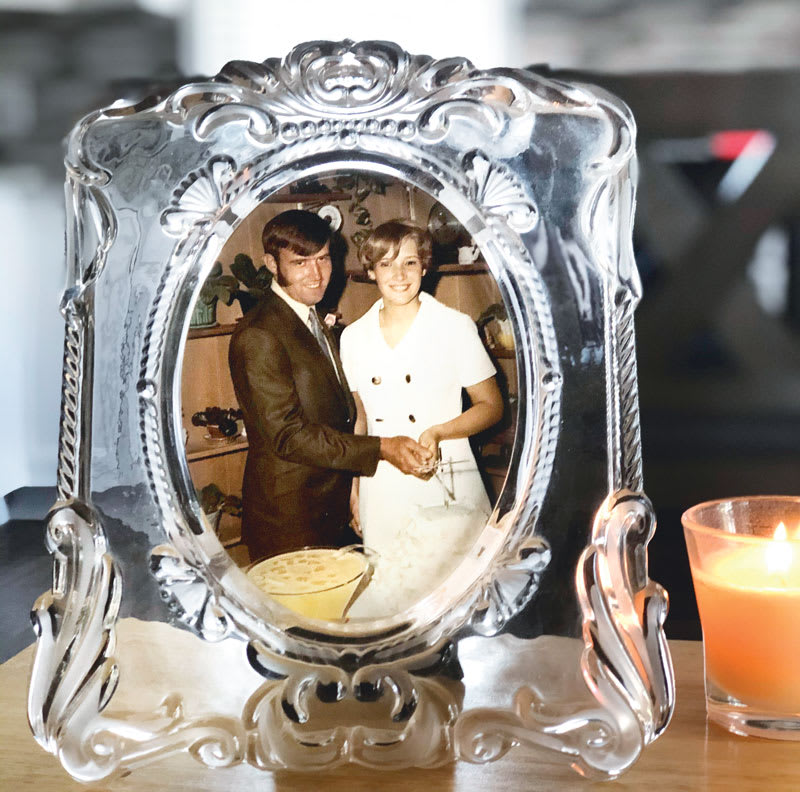 Jerald and Lois Orchard on their wedding day, June 6, 1970.
It was on the 12th day that Jerald successfully came off the ventilator and his condition improved. The family now had hope that he was going to pull through.
He remained in the hospital for a couple more weeks after that to continue to gain his strength back. Lois was able to see all his milestones because his physical therapist would video chat with her so that she could watch during his therapy sessions. She remembers the first time he took a few steps. "I was just sitting there crying, watching him on my phone. I was so relieved."
When it was time to leave the hospital, there was talk of possibly sending him to a long-term facility to continue his rehabilitation. But Lois just wanted to bring him home, and she told his doctor that's what she wanted. Arrangements were made for a home health nurse, a physical therapist and an occupational therapist to come to their home.
Together again
Lois was so excited to finally pick Jerald up from the hospital and give him a hug. It had been 20 days since she had last seen him in person.
For Jerald, it was slow going when he first came home. "I felt weak and tired at first, but I am breathing so much better and feeling so much better now," he says. "I'm just ready to start doing normal things again."
Lois is thankful to all the physicians, nurses, physical therapists and staff for the care they provided Jerald. "They all did such a great job. I couldn't be there with him myself, but I knew he was in great hands," she says.
Categories: Patient stories, COVID-19